Susan Keiser is a fine art photographer working at the intersection of dreams and memories, abstract and conceptual ideas.
She got her first camera as a suburban high school student intent on documenting the chaos and magic that was New York City in the late 60s. While photography remained a passion, it wasn't until digital cameras and printers made it possible for artists to make their own color prints that it became her primary focus. The casual purchase of a vintage doll on Ebay was the start of this ongoing project, a miniature world which reflects and comments upon our individual and cultural histories.
Her work has been exhibited in solo and group shows in a wide range of galleries and museums both here and abroad. She is the co-founder of Garage Gallery, Beacon, New York.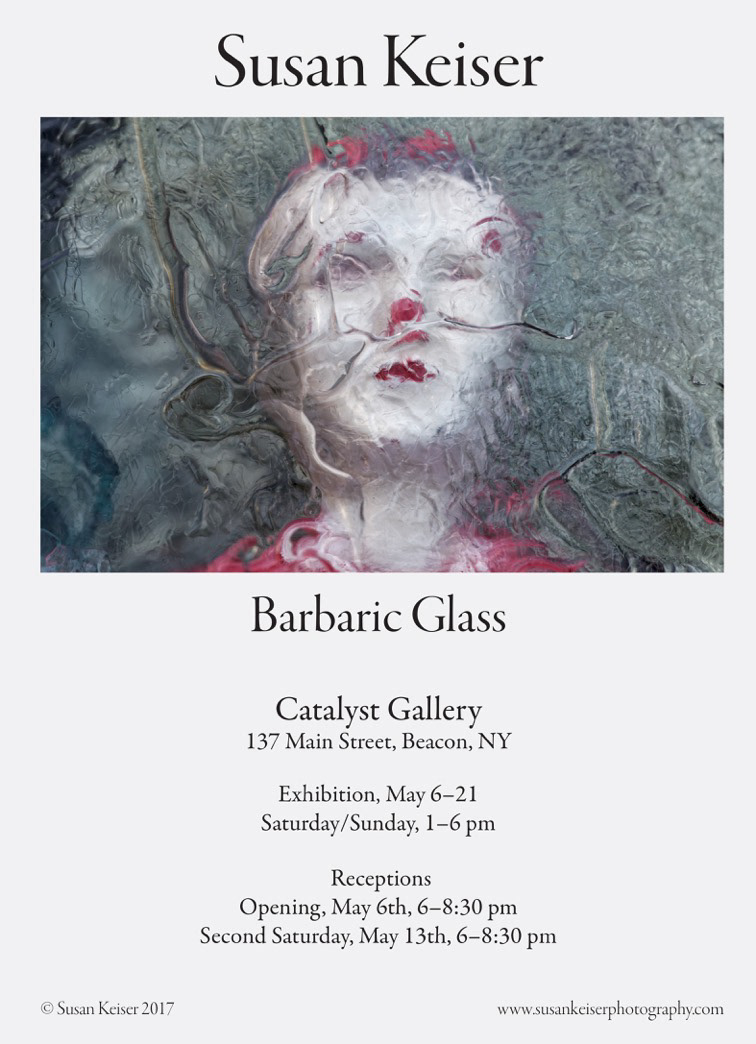 susankeiser@hotmail.com
Another Place, Garage Gallery, Beacon, New York, April 2023
Untold Stories, Garage Gallery, Beacon, New York, July 2022
Time in Wavering Water Lies, Catalyst Gallery, Beacon, New York, May 2019
A River Made of Time and Memory, Baum Gallery, University of Central Arkansas, Conway, Arkansas,
November 2018–February 2019
A River Made of Time and Memory, Anchorlight Gallery, Raleigh, North Carolina, October 2018
Flooded, The Barrett Art Center, Poughkeepsie, New York, August 2016
Flooded, Griffin Museum of Photography at Boston Stage Company, Stoneham, Massachusetts, April 2016
Portraits, Catalyst Gallery, Beacon, New York, April 2018
Barbaric Glass, Catalyst Gallery, Beacon, New York, May 2017
Flooded, Catalyst Gallery, Beacon, New York, May 2016
The Last Wave By, Catalyst Gallery, Beacon, New York, May 2015
Selected Group Exhibitions
Now: As a Consequence of Fact, Pen & Brush, New York, New York, curated by Parker Daley , 2023
Curious Oddities; Stories Untold, Art Spaces at Krasdale, White Plains, New York, curated by Kirsten Kucer, 2023
The Portrait, Darkroom Gallery, Essex Junction, Vermont, juried by Amy Holmes George, 2019
Stories, PH21 Gallery, Budapest, Hungary, juried by Zsolt Batori, 2019
Contemporary Portraiture, SE Center for Photography, Greenville, South Carolina, juried by Steve Diamant, 2018
The Big Picture, Month of Photography Denver, Denver, Colorado, juried by Mark Sink, 2018
Monochrome, PH21 Gallery, Budapest, Hungary, juried by Zsolt Batori, 2018
Home, SE Center for Photography, Greenville, South Carolina, juried by Aline Smithson, 2018
Portals, New York Center for Photographic Art, New York, New York, juried by Darren Ching, 2018
Water 2018, PhotoPlace Gallery, Middlebury, Vermont, juried by Ann M. Jastrab, 2018
Portraits, A Smith Gallery, Johnson City, Texas, juried by Alyssa Coppleman, 2018
Coupe de Forche, Baxton Gallery, Brussels, Belgium, curated by Pauline Caplet, 2018
Staged, PH21 Gallery, Budapest, Hungary, juried by Zsolt Batori and Krisztina Domjan, 2018
Tree Talk, Griffin Museum of Photography at Lafayette City Center, Boston, Massachusetts, curated by Paula Tognarelli, 2018
Chairs, A Smith Gallery, Johnson City, Texas, juried by S. Gayle Stevens, 2018
The Creative Portrait, Los Angeles Center of Photography, juried by Ann M. Jastrab, 2017-2018
Prime, Fogelson Studio, Chicago, Illinois, juried by Kat Kiernan, 2017
Portraits Without Faces, PH21 Gallery, Budapest, Hungary, juried by Zsolt Batori and Krisztina Domjan, 2017
What the World Needs Now, B Complex Gallery, Atlanta, Georgia, curated by Anita Arliss and Ruben Natal-San Miguel, 2017
Stories, PH21 Gallery, Budapest, Hungary, juried by Zsolt Batori and Krisztina Domjan, 2017
30th Annual Members' Show, Texas Photographic Society, Houston, Texas, juried by Malcolm McDaniel, 2017
2017 National Competition, Soho Photo Gallery, New York, New York, juried by Aline Smithson,
Narrative Photography, Black Box Gallery, Portland Oregon, juried by Christy Karpinski, 2017
Primary Colors, New York Center for Photographic Art, New York, New York, juried by Ann M. Jastrab, 2017
The Big Picture, Month of Photography Denver, Denver, Colorado, juried by Mark Sink, 2017
2017 Open Juried Exhibition, Vermont Center for Photography, Brattleboro, Vermont, juried by Karen Haas
Haunted, Darkroom Gallery, Essex Junction, Vermont, juried by Russell Joslin, 2016
Masks, SE Center for Photography, Greenville, South Carolina, juried by Aline Smithson, 2016
Tell Me A Story, B-Complex Gallery, Atlanta, Georgia, juried by Anita Arliss and D. Dominick Lombardi, 2016
Center Forward, The Center for Fine Art Photography, Fort Collins, Colorado, juried by Hamidah Glasgow and Aline Smithson, 2016
RGB, PH21 Gallery, Budapest, Hungary, juried by Zsolt Batori and Krisztina Domjan, 2016
Fishing for Iconography, A Smith Gallery, Johnson City, Texas, juried by Amanda Smith and Kevin Tully, 2016
Old, A Smith Gallery, Johnson City, Texas, juried by Ann M. Jastrab, 2016
Intimacy, PH21 Gallery, Budapest, Hungary, juried by Zsolt Batori and Krisztina Domjan, 2016
Same But Different, New York Center for Photographic Art, New York, New York, juried by Darren Ching, 2016
Simply, The Center for Fine Art Photography, Fort Collins, Colorado, juried by David Carol, 2016
Red, A Smith Gallery, Johnson City, Texas, juried by Aline Smithson, 2016
Photowork '16, The Barrett Art Center, Poughkeepsie, New York, juried by Karen Irvine, 2016
Illuminate, The Center for Fine Art Photography, Fort Collins, Colorado, juried by Elizabeth Avedon, 2015
Open Exhibition, A Smith Gallery, Johnson City, Texas, juried by Dan Burkholder, 2015
28th Annual Members' Only Show, Texas Photographic Society, Frisco, Texas, juried by Keith Carter, 2015
Curvilinear, Darkroom Gallery, Essex Junction, Vermont, juried by Sarah Hadley, 2015
Through My Lens, Beard Gallery, SUNY Cortland, Cortland, New York, juried by Roger Freeman, 2015
Family Matters, PhotoPlace Gallery, Middlebury, Vermont, juried by Ann M. Jastrab, 2015
Unbound4!, Candela Books + Gallery, Richmond, Virginia, curated by Gordon Stettinius, 2015
Portraiture, PH21 Gallery, Budapest, Hungary, juried by Zsolt Batori and Krisztina Domjan, 2015
H2O, A Smith Gallery/East Main Grill, Johnson City, Texas, curated by S. Gayle Stevens, 2015
Unexpected, PH21 Gallery, Budapest, Hungary, juried by Zsolt Batori and Krisztina Domjan, 2015
Third Person, Cleveland Print Room, Cleveland, Ohio, curated by Charles Mintz, 2015
The Big Picture, Month of Photography Denver, Denver, Colorado, juried by Mark Sink, 2015
SKY, Griffin Museum of Photography at Lafayette City Center, Boston, Massachusetts, curated by Paula Tognarelli, 2015
Contemplation, PH21 Gallery, Budapest, Hungary, juried by Zsolt Batori, 2015
What is a Portrait? Ripe Art Gallery, Huntington, New York, curated by Ruben Natal-San Miguel, 2014
Friends Without A Border, Invitation-only benefit auction, New York, New York, 2014
Forgotten, A Smith Gallery, Johnson City, Texas, juried by Blue Mitchell, 2014
20th Annual Juried Exhibition, Griffin Museum of Photography, Winchester, Massachusetts, juried by Aline Smithson, 2014
Portfolio Showcase, The Kiernan Gallery, Lexington, Virginia, juried by Gordon Stettinius, 2014
2014 Member's Show, Colorado Photographic Arts Center, Boulder, Colorado, juried by Mark Sink
Dreams: Illusion and Fantasy, Black Box Gallery, Portland, Oregon, juried by Jessica Johnstone, 2014
Electron Salon, Los Angeles Center for Digital Art, Los Angeles, California, juried by Rex Bruce, 2014
Images 2014, Fairfield Museum and History Center, Fairfield, Connecticut, juried by Helen Klisser, Jordan Schaps, Philip Trager
TPS 23: The International Competition, Texas Photographic Society Traveling Exhibition, juried by Susan kae Grant, 2014
Water! The Center for Fine Art Photography, Fort Collins, Colorado, juried by Wally Mason, 2013
Keyhole Art Fair, Murcia, Spain, represented by PH21 Gallery, 2018
Berlin Foto Biennale, Berlin, Germany, juried by Laura Noble, 2016
Photo Independent Art Fair, Los Angeles, California, juried by Daniel Cornell, Graham Howe, Sarah Lee Graham, Eve Schillo, 2014
First Place, Portals, 2018, New York Center for Photographic Art, New York, New York
Juror's Choice Award, 2017 Juried Exhibition, Vermont Photography Center, Brattleboro, Vermont
Finalist, Julia Margaret Cameron Award, 2016, The Worldwide Photography Gala Awards
Second Place, Through My Lens, 2015 Beard Gallery, SUNY Cortland, Cortland, New York
Associate's Choice Award, Unexpected, 2015, PH21 Gallery, Budapest, Hungary
Top Ten Submission, The Big Picture Denver, 2015, Denver, Colorado
Honorable Mention, Contemplation, 2015, PH21 Gallery, Budapest, Hungary
Juror's Award, Forgotten, 2014, A Smith Gallery, Johnson City, Texas
Honorable Mention, 2014 Member's Show, Colorado Photographic Center, Boulder, Colorado
Lenscratch: Fine Art Photography Daily "Undertow" portfolio, October 14, 2023
Peer, Visual Conservancy Annual, 2019
Poignant Portfolios, One Twelve Publishing, "The River Is Moving" portfolio, 2018
Elizabeth Avedon Journal, "Portraits" review, March 2018
Edge of Humanity Magazine, "Barbaric Glass" portfolio, 2018
A PhotoCurator / Jonathan Blaustein, "Barbaric Glass" portfolio, October 2017
Light Leaked, "Constructing Narrative" exhibition, May 2017
Don't Take Pictures, "Masks" exhibition, January/February, 2017
Float Photo Magazine, "Halloween" exhibition, October 2016
Maintenant 10: A Celebration of the 100th Anniversary of Dada, June 2016
The Photo Review, "International Competition," March 2016
Elizabeth Avedon Journal, "Flooded" review, November 2015
A PhotoCurator / Jonathan Blaustein, "The Last Wave By" portfolio, October 2015
Don't Take Pictures, Photo of the Day, October 2015
Your Daily Photograph, October 2015
Float Photo Magazine, "In Memory's Dream" portfolio, May 2015
Elizabeth Avedon Journal, "The Last Wave By" review, July 2014
F-Stop: A Photography Magazine, June 2014
Vasa: Journal on Images and Culture, "The Last Wave By" portfolio, June 2013
Lenscratch: Fine Art Photography Daily, "Fire and Ice" portfolio, January 2013
Co-Founder, Garage Gallery, Beacon NY, September 2021
Curator, The Sympathetic Eye: Portraits in Photography, The Howland Cultural Center, Beacon, New York, January 2020
Co-curator, Fugitivart conceptual photographic exhibition, Soho Photo Gallery, New York, New York, September, 2013
What Will You Remember? Photography Blog by Elin Spring, March, 2016